Today is a very special DJ Diaries! Brian and Brad both provided entertainment for a beautiful Mint Springs Farm wedding, and Brad "raised the roof" at the Franklin High School Prom! This year marked the thirteenth year that we had the honor of providing the entertainment for Franklin High School. Not only do we make memorable moments at weddings, but we also leave a mark on one the most memorable nights for seniors celebrating their final year of high school.
Saturday, April 18th | Brandi and Scott
1. Tell us a little about the couple and their wishes for their wedding: Brandi & Scott were very aware of their guests and really wanted to incorporate the entertainment experience into the evening. With Mint Springs Farm being in full bloom from all the rain, the stage was set for an incredible viewing. Wes Howard from Crosspoint (Franklin campus) was the officiant and he matched the couples story perfectly. A quick glimpse of how they met, how their love grew, will continue to grow and a charge for the future. Blue Tone provided the soundtrack for the ceremony with a classical guitarist providing all of the special music. Although gloomy skies and storms were all around, showers of love were the only thing that was felt. The Malinoff's were ready to greet their guest and thank them for sharing in their celebration. The playlist that they helped create ranged from Motown classics to Top 40 one hit wonders. The whole day was really setup to be a reflection of their families and their friends that celebrated with them on Friday. Additionally they had asked us to find some way to weave in the Jewish family heritage as they were not doing a traditional Jewish ceremony or reception.
2. Was there anything special or unique about the day? Special moments among family members? Couple? Friends? Brandi and Scott were both athletes and sports had a big part in their relationship. Apparently, it has been well documented that Scott, who was a quarterback, fell in love with Brandi's hands due to their size. He thought they would make for great hands for her kids one day as she was an athlete as well. The groom's cake was a San Francisco 49'ers cake and it looked incredible….I did cheat and have a piece and I will say it tasted as good as it looked. A large portion of the family was from California and they were all very complimentary of the Tennessee countryside. Scott wanted to create a funny moment with his toast and went with a David Letterman Top 10 list. It was funny, relevant and was a crowd pleaser. One of the unique moments I remember was very specifically Brandi wanted to make sure we played "Watermelon Crawl" by Tracy Byrd, she remembered the dance from years ago and led the crowd through the dance flawlessly.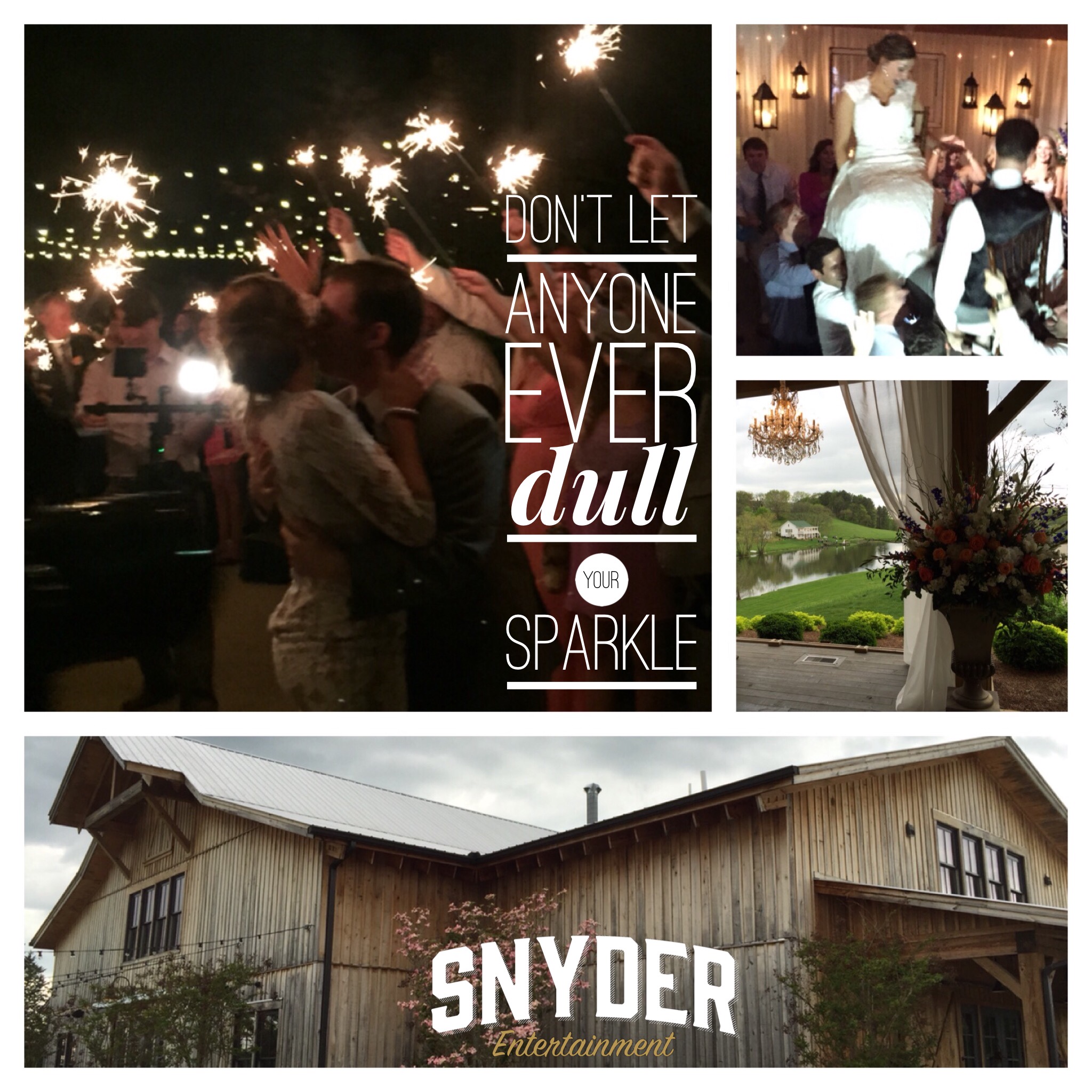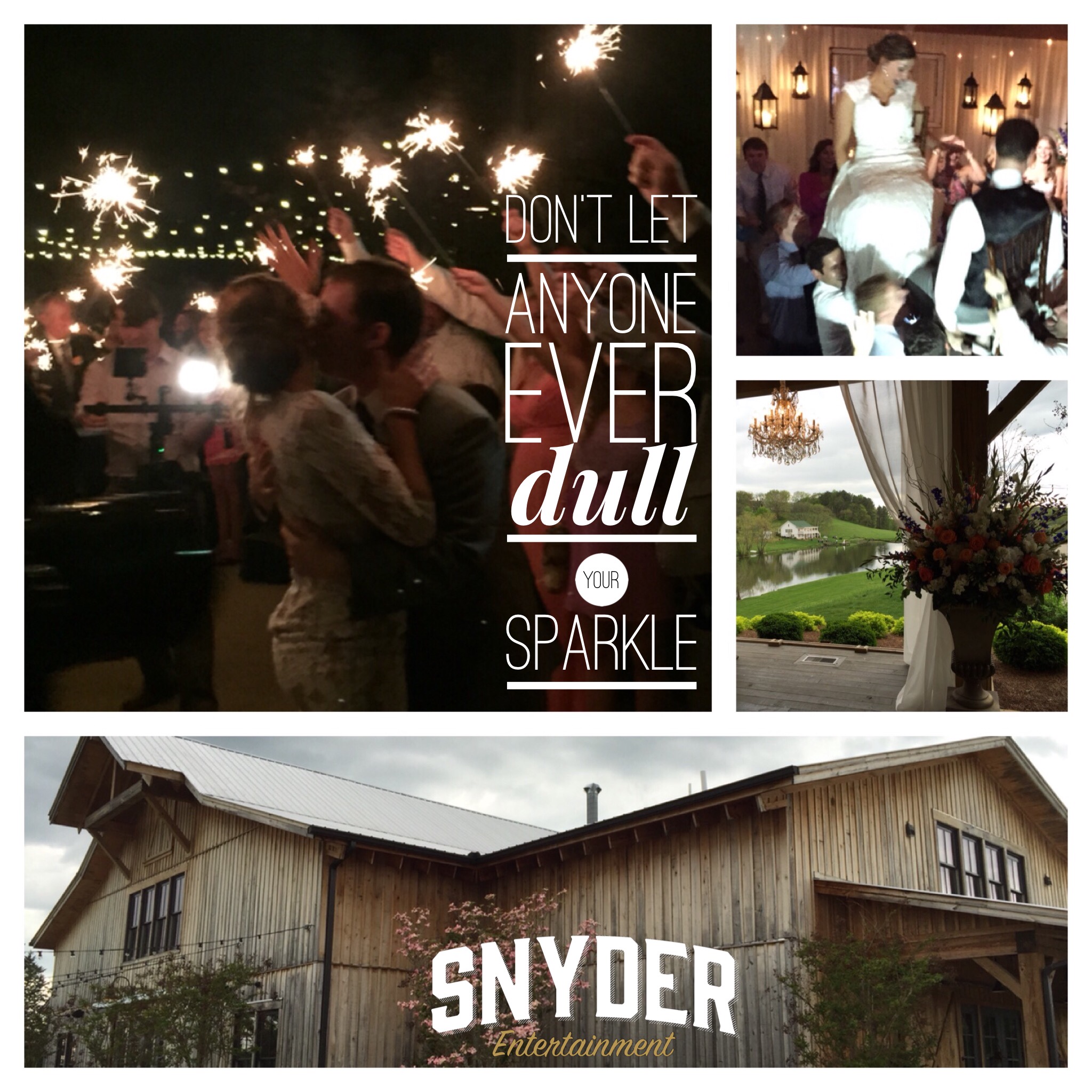 3. What were some of the couple's music selections for ceremony? Reception? Like most events, the music can really range from one genre to the next. The entire crowd was singing along to Motown favorites like "Respect" by Aretha Franklin and they really put a little extra effort into "Signed, Sealed, Delivered" by Stevie Wonder. We brought back some classic hip hop hits like Soulja Boy and It's Tricky. The last dance song which just seems so appropriate for any demographic is Ed Sheeran's "Thinking Out Loud". Overall, I would say the music fell into Top 40 category and high energy songs. A dancing crowd combined with a singing crowd makes for a great event!
4.Final DJ Thoughts: Matt Andrews was the photographer and he has a really good sense about being in the wedding but not being in the way. I look forward to seeing some of his shots. I have stated this before and I tell all of my clients this when we meet. The crowd takes on the personality of the Bride & Groom. What I mean by that is this….if you are uptight, combing over every fine detail and just looking for something to go wrong, my guess is you will find it. I am a firm believer you find what you look for. Your guests will see that you are uptight, they will see are not happy. Trust me, you might know that hydrangea is supposed to be baby blue instead of royal blue, but I highly doubt your guests even thought to look at the flower with that much detail. Scott and Brandi were all smiles all night long. From the moment they were first introduced as husband and wife until they got in the limo, they were all smiles! They were on the dance floor, and the guests follow the Bride & Groom. The dance floor was packed, smiling faces all the way around. We can help set the ambiance with the lighting, the décor and the music…but you set the stage with your presence. Make your event memorable and one for the ages, it all starts with having fun on one of the most important evenings of your life!
Saturday, April 18th | Franklin High School Junior Senior Prom
We had a fantastic prom this year. Snyder Entertainment has been doing Franklin's prom for thirteen years! This year was a fantastic setup using almost exclusively lighting for decoration. There were gobo's or "monogram" lights projecting New York city scape on every wall accented by teal and blue lighting. It felt very very metropolitan.
This year for the senior presentation I chose music that really fit the New York theme. I played "Theme From New York New York," by Sinatra, "Welcome to New York" by Taylor Swift, "Manhattan" by Sara Bareilles and even the Bryan Ferry Orchestra version of "Empire State of Mind" from the move "The Great Gatsby."
After the senior presentation we did the classic Father Daughter and Mother Son dances. But this year to throw a little twist to the mix; I brought all the seniors and all the parents to the dance floor for a "family dance." And of course I played "We Are Family." At this point in the night there were probably 1,200 people in the room. It was very epic feeling. But it was time for the students to have the room to themselves so I "not so" subtlety played "Happy Trails" and sent the parents packing.
Franklin High School always has about 600 kids and tonight most of them were on the dance floor the entire night. As a matter of fact there were so many bodies jumping up and own on the floor that my riser just bounced the whole night. It was like being on a ship at sea. The music covered a range of hip hop and top 40. But there was surprisingly a fantastic response to some older songs like "It's Tricky" by Run DMC and "Hey Ya" by OutKast.
Before too long we were at the big moment of the night....the balloon drop. This year to go along with the theme "Midnight in Manhattan" I played "Empire State of Mind" by Jay Z and Alicia Keys. It was such a great moment when that first chorus hit and all the balloons fell down to the dance floor. We took it slow after this leading into the crowing of the King and Queen. For the special dance I played "The Way You Look Tonight" which screams New York. The biggest surprise of the night, however, was a very aggressive request to play "December 1963" by The Four Seasons. I used it as the exit song and while the lights all came on I had about 20 students storm the stage and dance it out to this classic. It made me happy to see a song like this making a comeback.