Before you quickly browse through this blog post thinking, I don't need lawn games at my event, think again. Lawn games are one of the hottest event trends for 2018, but we've known that since last year when Snyder Entertainment dove head first into this timely trend! We can provide life size versions of some of your favorite games like Connect 4 + Jenga, and we also offer more traditional lawn games like corn hole boards and horseshoe. Lawn games are practically perfect for outdoor cocktail hours, birthday bashes, corporate picnics and grand openings, graduation celebrations, neighborhood block parties, and every event type in between. Here's a quick recap to rev up your entertainment elements at your next springtime social..!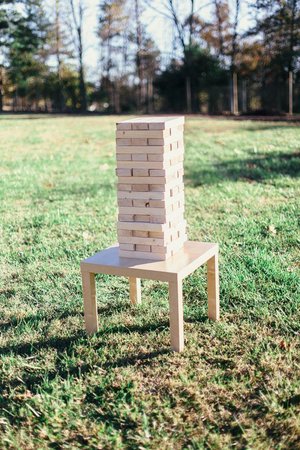 Including various entertainment elements during cocktail hour has been a pretty consistent wedding trend that we've been seeing a lot of and getting a lot of requests for, and honestly- it's been a blast! Not only do the guests have a great time, but venues love the idea as well. And don't stop with cocktail hour- it's important to remember that not all of your guests at your wedding reception are going to be able to be on their feet dancing all night, so why not give them another form of entertainment? Games are the perfect solution for any age!
No two corporate events are ever the same and that's something we take into account when planning our clients events. Whether it's a product launch, an annual celebration, a Spring picnic, employee appreciation party, collaborative event, seminars, conferences, organizational milestones, retreats and destination meetings, or team building events- our games are the ideal go-to. Lawn games are inclusive, exciting, and relaxing which makes them an easy add-on option!
Our custom ordered cornhole boards are made right here in Nashville by local craftsmen, Woodfellaz. Woodfellaz crafts our boards from sheets of local birch wood that include hand drilled holes, and they never paint the wood or apply stickers. They only stain the wood, which helps to to keep the integrity of the wood-grain intact, and by staining the wood, it showcases the ever appreciated artistic and natural approach of these woodworking craftsmen. We offer multiple different design fronts such as the American Flag, Music City inspired styles including the tri-star flag, various Nashville skyline silhouettes, an ode to the Nashville Predators, a guitar, the ever popular "I Believe in Nashville," and a combination of two designs in one: the tri star shining down on the downtown skyline. We've also ordered custom created designs for Hello! Nashville, Destination Nashville, and Mint Springs Farm using their logos.
*Delivery + On-Site Setup prior to your event,
*1 Set of Cornhole Boards + 1 Game of Choice
*Break Down + Pick Up after your event ends.
Our corn hole boards are included in every lawn games package. Due to their small size, they can fit in virtually any and all event venues and spaces. These boards are guaranteed to bring a lot of fun to every event environment!
Contact us today to reserve your choice of available games for your upcoming wedding or event.