The month of August is usually a little less of a busier time for us as kids head back to school, parents exhale, and everybody prepares for the fall season ahead. But when it comes to our Photo Booths, there is no such thing as a break; this is still our most in demand service. Each photo booth package includes a custom template, your unique choice of backdrop, large prop selection, unlimited full color printing, a scrapbook, a digital memory key, a professionally trained photo booth attendant.. and the list goes on and on. Wedding and party guests love discovering a photo booth at an event because it creates such a fun atmosphere for guest interaction, and provides keepsake/favor photos from your event. Photo booths themselves have been around for a long time, but as with most things in the trendy entertainment world, they have evolved into far more festive approaches and further innovations in technology have also given them new life. Snyder Entertainment has stayed up-to-date on all of the newest technology for creating and capturing those priceless moments at your event..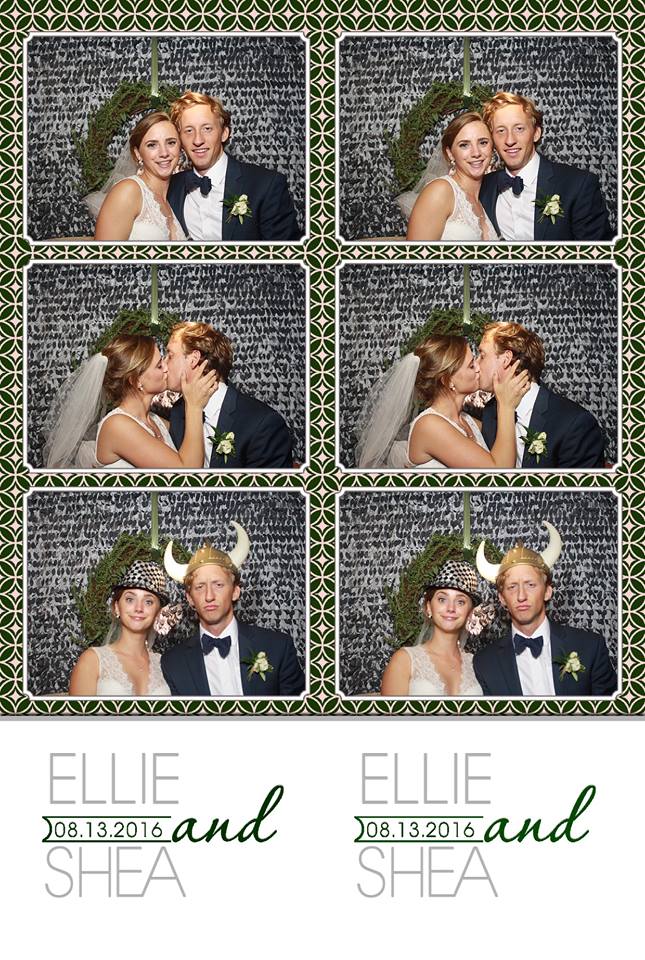 Trends + Tips
We love our open-air photo booths! This style of photo booth structure has no walls, making it easy for guests to stand in front of the camera, pose against a backdrop, or it may be an entire separate room at your venue that has been styled with couches, tables, chairs, and décor.
Green screen backdrops for photo booths allow you to create a custom backdrop for your photos, adding a hi-tech element that enhances excitement, and creates fabulous keepsake photos. Video photo booths allow guests to capture themselves in movement, perhaps dancing or singing, and of course photo booth kiss shots capture the moment. We can also provide photo booths that are equipped to create slow-motion video as well.
In the world of photo booth props, Snyder Entertainment comes prepared with a wide range of props, from oversized sunglasses to hats to masks, feather boas, oversized mustaches and other trendy photo booth props such as hand held signs, hashtags, and much more! A top trend in photo booth rentals is the hand-held message board. Snyder Entertainment can provide a hand held chalkboard, which your guests can write their own chosen messages.
Social media-integrated photo booths allow your guests to step to our iPad kiosks, view their photo booth pictures, and share instantly to their choice of social media platforms like Facebook, Twitter, or Instagram, and also email their photos to themselves or to friends. Our Instagram Station is another great option to have available for all of the tech savvy guests that will attend your event. It's easy to use and the size of the machine makes it an easy fit at any venue. Your guests will have access to unlimited prints of their Instagram picture that corresponds with the event hashtag. It's one of our most popular services right now, and always a huge hit!
Here's a recap of some of the recent August Newlywed couples that have included our open air Photo Booths at their wedding receptions. Grab a prop and lets get started!..
Saturday | 8.06.16
Venue: Fairlane Church of Christ
Photo Booth Attendant: Donald Snyder
Vendors: Planning, Flowers, Decor by Regalo Design | Photographer, Jenna Henderson | Russell Catering | Rentals by Southern Events | Precision Videos
To see, save, and share all of their photo booth pictures, please click here!
Highlights:
A beautiful wedding turned wonderful evening by some our favorite event planners in Nashville, Regalo Design. Courtney and Tyler were such a sweet couple to work with, from picking out their template, changing the colors around, and selecting every custom touch for the Photo Booth. It was a sweet ceremony for this new couple as they were surrounded by family and friends who gathered to witness them promise forever to one another. After the ceremony, it was time for the reception! Filled with food, fellowship, and a lot of fun as everyone celebrated Courtney and Tyler's new union as Husband and Wife. The photo booth stayed busy all night with guests in and out, grabbing different props, striking different poses, and feeling the love of the night with hugs, kisses, and funny moments! We had so much fun at this wedding, as it was a nice reminder of true love. Congratulations again Courtney and Tyler! We wish you so a lifetime of love and happiness!
Friday | 8.12.16
Ceremony + Reception Venue: Schermerhorn Symphony Center
Photo Booth Attendant: Donald Snyder
Vendors: Wedding Planner, Flowers, Decor by Regalo Design | Desserts by Signature Cakes by Vicki | Catering by Chef Penelope | Ceremony + Cocktail Hour Music by The Golden Band | Reception Band, Blue Tone Music Photography by Lauren Athalia | Videography by Peerless Films | Linens by Southern Events
Highlights:
We always love working at the Symphony Center; the venue and the client are always so sophisticated + refined. Great planning, design, floral from our friends at Regalo Design who used their colors to create a beautiful backdrop of an already gorgeous venue. The colors this Newlywed couple chose were light pink, neutrals, light yellow, coral rose, light orange, and touches of greenery. Another vendor we love, Chef Penelope, did a wonderful job with the catering as always. This wedding was first class all the way around from the couple, their family and friends, the vendors, and beyond. During the cocktail hour, The Golden Band entertained guests with a smooth mix of Motown top 40 country songs. Blue Tone Music took over for the reception band, which is always a great experience. Quint and Laura ended their night with a glow-stick send-off by family and friends. You will be able to see from the pictures in our booth that they had a night for the ages! Congratulations again, Laura + Quint! Cheers!
More photo booth features coming soon in future blog posts.. Stay tuned!
Do you want to add one of our open-air photo booths to your event package? Or maybe you just want to rent a photo booth from us like the couples above did? Maybe you're just interested in our Green Screens and print stations? Contact us today to reserve your date or simply add it on to your already existing package. We can't wait to start planning your next event!
Written by: J. McGee